Making homemade stickers can be fun, and can also be a source of supplemental income if you plan on selling them. In this blog post, I will be talking about my favorite sticker-making supplies I use for selling stickers in my online store. 
I will be breaking the materials down into these five categories. They are as follows: 
The Machine
The Printer
The Paper
The Vinyl 
The Tools 
Please note, I will be posting some hyperlinks to some materials on Amazon. If you purchase from those links, I may receive a small commission. 
1. The Machine
If you plan on cutting your stickers out by hand, you can skip this. But if you have the funds to splurge on sticker-making materials, I absolutely love my Cricut. They do have newer models out now, but I use a Cricut Explore Air 2. 
Some people swear by their Silhouette machines, but I adore my Cricut and I use it almost every day. Once you figure out how to use the interface, it's a no-brainer. There are plenty of tutorials online for how to make things with your Cricut and use the machine. 
2. The Printer
If you want to print stickers at home, a high-quality printer is a must. I've used multiple different Canon printers for years, and the current one I'm using is the Canon TR8620a. I have friends who also use Epson EcoTank printers and love theirs, though I cannot personally vouch for it,
3. The Paper
This is important. If you are planning on making stickers at home, especially with the intent of selling, it is important to get vinyl sticker paper, and not just plain sticker paper. In my experience, sticker paper is a lot more flimsy and less water resistant. Sticker vinyl is going to be slightly thicker, and more resistant to water. It will also hold your ink better, resulting in crisper printing. The two sticker paper brands I recommend are Zicoto and Joyeza. Both are great, but here are my thoughts on them both: 
Zicoto prints great and is very thick compared to Joyeza. 
I think Joyeza prints colors a little brighter and is more repositionable if you want to move your sticker somewhere else. However, I think Zicoto is a thicker material compared to Joyeza. 
Both are great quality but have different things to offer.
4. The Vinyl 
We have the sticker paper, now we need the vinyl on top. This is optional, but I think the vinyl adds a layer of professionalism and charm to the sticker. Plus, it can be fun to have different finishes. See below a photo of one of my Anomalocaris stickers with a "Prism" holographic vinyl on top!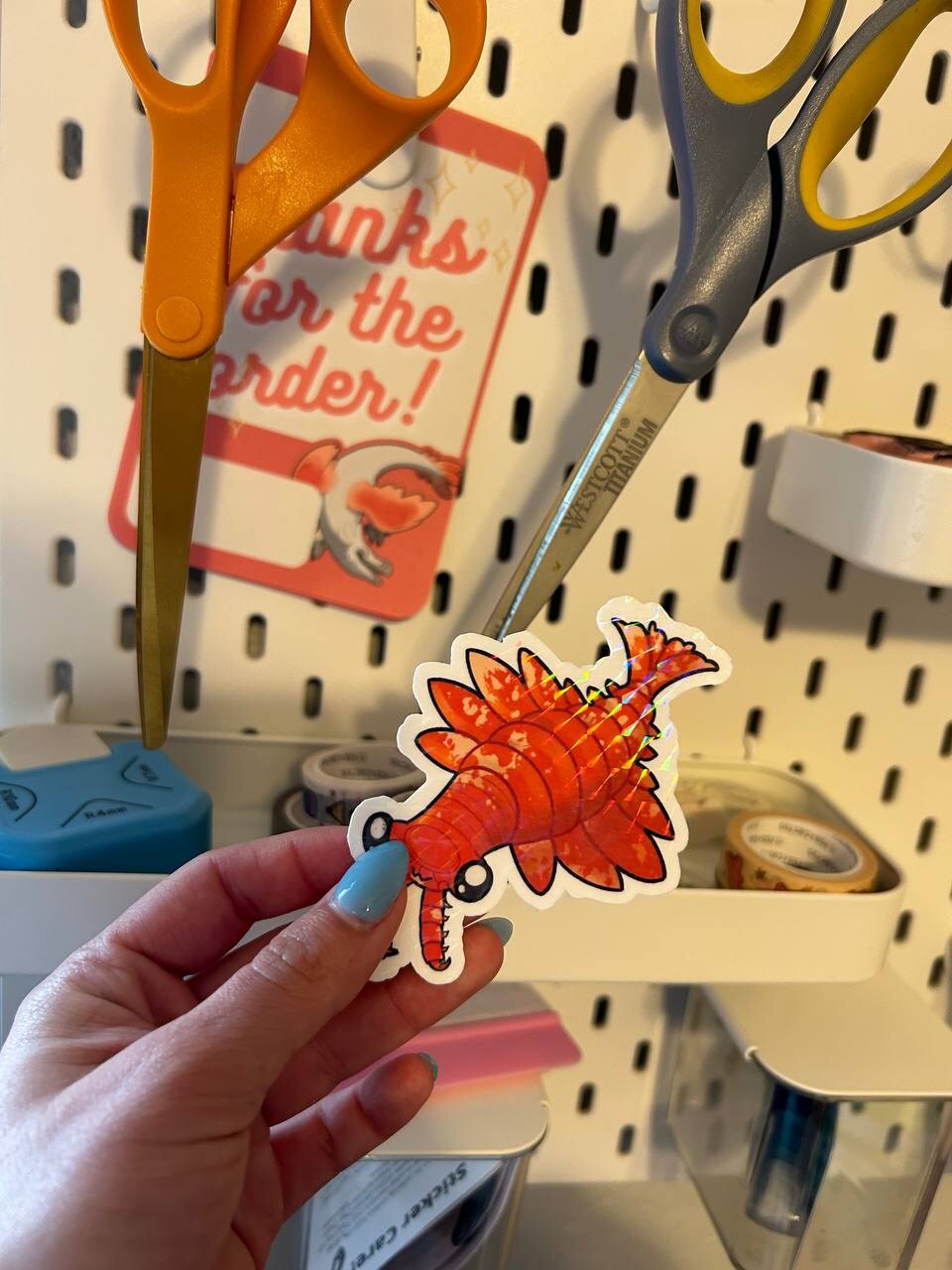 Along the way, I have used many a self-adhesive vinyl. If you like clear, somewhat glossy vinyl, I like to use this one from Amazon. It comes in a roll so you will need to cut it yourself. 
I also like to shop for vinyl on Etsy and support other small businesses. More often than not, the shop owner will have already cut the vinyl for you, and you just need to trim it to size and put it on top of your art. Here are some of my favorite Etsy shops for self-adhesive vinyl: 
5. The Tools
Regardless if you use a cutting machine or not, these few tools will be good to have in your sticker-making arsenal. For cutting vinyl, I recommend a good paper cutter. I've been using this one for about 6 months now and I think it works great for the price. I also like using a felt squeegee for applying vinyl to your sticker paper once you've printed it, much easier than using your hands or a credit card! The squeegee will allow you to apply the vinyl cleanly and push air bubbles out. And lastly, if you are cutting your stickers by hand, I think getting a good pair of sharp sewing scissors is essential for the job, to get all those details and a nice clean cut. 
And there you have it! I hope my list of tools with help you as you dive into the world of sticker making. 
If you want to learn more about making and selling stickers, I am having a workshop this Sunday, 4/23 at 4:15 pm CST on the @Dinosaurcomics discord!